Weyrbrat/Candidate
Anna Popplewell
Important Details
Original Name:
Kelian
Pronounced:
Kel-E-an
Honorific:
n/a
Pronounced:
n/a
Nicknames:
Kel
Dragon Name:
N/A
Dragon Pronounced:
N/A
Dragon Colour:
N/A
Wing Assigned:
N/A
Wing Rank:
N/A
Primary Rank:
Candidate
Secondary Ranks:
Weyrbrat
Place of Birth:
Katila
Date of Birth:
23.06.720 AL |
Searched/Stolen By:
N/A - Weyrbrat
Searched/Stolen Date:
01.06.732
Impression Age:
N/A
Physical Age:
19
Partner:
N/A
Appearance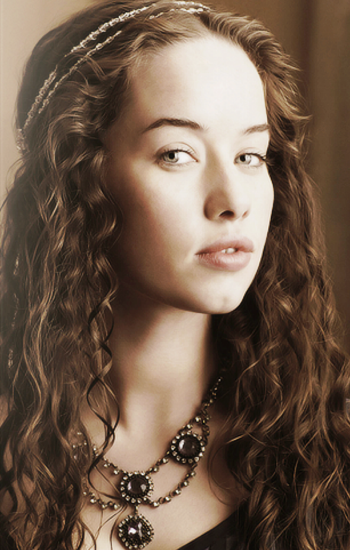 Eyes:
Kelian has almond-shaped eyes that range from a bright to a lighter blue, depending on her mood or what color she is wearing. Her lashes are long, have a very distinctive curl at the corners and are dark like her hair, but not overly thick. Her brows aren't overly thick, match her hair in color, and have just enough curve to accent her eyes well.
Hair:
Kelian has thick, brown hair that falls in waves to her middle back, the shade fluctuating depending on how much time she spends outside. She wears it loose most days, some of it pulled back in a tie to keep it out of her eyes at least, with the bulk of it falling over her shoulders and down her back. Whenever she has kitchen duties she will tie her hair up in a ponytail or a bun, occasionally a braid if she can find someone to do it for her.
Height:
Kelian stands roughly at 5'5. She had hoped to grow at least another inch but stopped growing when she was 16 Turns. She doesn't always like it, though being short does have it's perks.
General Appearance:
Kelian is short and slender but has just enough curves to give her a nice hourglass shape, with her hips being slightly wider than she would like. Her skin is a pale cream color with a healthy dose of freckles covering her body, most prominent across her face, shoulders, and arms. Said freckles range in darkness and she isn't overly fond of them, but there isn't much she can do about it. She has small, plump lips that become a wide smile with straight teeth when she truly gives a smile, otherwise, her smile is small and polite. Her hands and feet are small, but not out of proportion with the rest of her body.
Dressing Style:
Kelian prefers loose, comfortable clothing, considering the heat she grew up living in. It doesn't matter to her if she wears dresses or pants and tunics, so long as they are comfortable. This doesn't mean that she likes to have her clothing baggy to the point she looks bad or they are falling off her body, however. Generally, she will go barefoot when outside, unless the ground is terribly hot or rocky. She likes small dainty shoes but will wear heavier shoes if the need arises. She isn't one for much jewelry, but she will wear it on occasion if it was given to her as a gift.
Personality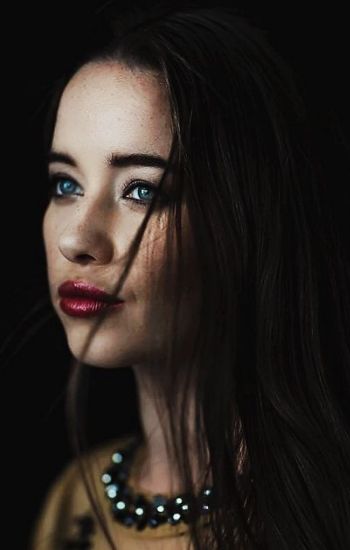 General Character Traits:
Kelian is a sweet girl, generally speaking, she is polite, proper, and courteous. She is kind-hearted and loving towards those she meets. She is intelligent enough, for her rank and age, and where she likes to read she would prefer hands-on learning to studying scrolls inside somewhere. She can be playful at times and loves to help others bath and oil their dragons if they allow her too, her favorites being those belonging to her father and brother.
Snappy and sarcastic on occasion when the situation calls for it, and sometimes when it doesn't. She doesn't generally mean any harm by it but she has little tolerance for stupidity or those who complain and whine about things. She doesn't go out of her way to be rowdy and obnoxious and rather liked being around some of the stolen hold girls as they were, generally speaking, soft-spoken and very proper. Sometimes a little too proper for her, hence her dislike of people who complain a great deal about nothing at all. She likes to try to learn how to act the way they do, it doesn't always work, she likes to run around and have fun and be curious as she always is, but when she needs to, she can be much more proper than some of the other weyrbrats.
Habits/Mannerisms:
Kelian tends to huff a breath of air out when frustrated or upset and will walk away from whatever is causing the frustration or upset. When feeling awkward or shy she will play with her hair and look down at her feet, and again try to escape the situation.
Opinions:
Threadfall Theory:
It is part of our past, and maybe part of our future.
Stealing/Kidnapping:
It wasn't right, would not have wanted to be taken from her family that way, however, she also understands it was needed to save the dragons.
Weryrleader S'kef:
Kelian really held no opinion on this matter as she was too young. He was the Weyrleader and expected to be respected as such is all she knew. She mainly avoided being in his, or any other ranking rider's way.
Firelizards:
Firelizards!! She loves the little creatures and wants one of every color. Always excited to see one, no matter how often she sees them.
Women's loss of honourifics:
This did not effect Kelian but feels that it shouldn't matter if women have honorifics or not, it doesn't make them any less of a dragonrider, does it?
Return North:
Kelian was excited to a point but afraid to leave her home, regardless of its downfalls. She looks on it as an adventure but is sure she will never be able to see it all.
Likes:
Being Outside:
Inside? what is this inside you speak of?? Kelian would spend almost all of her time outside if she could, regardless of the temperature. There is nothing quite as wonderful as being out in the fresh air, rather than cooped up inside doing lessons or chores.
Firelizards:
Kelian absolutely adores the little creatures as they are so much like their larger cousins in appearance. They can be fun and playful and make her smile quite often. She hopes one day that she is lucky enough to have one of her own, for now, she contents herself paying attention to other's firelizards if they let her.
Cooking:
One of the few reasons Kelian will willingly stay inside is when there is food to be made. Having had a kitchen drudge for a mother she was often found in the kitchens when she was old enough to be useful. It makes her quite happy should anyone mention that whatever she made was especially good. When her mother died she threw herself into cooking and helping with meals as a way to keep her mother's memory close.
Storms:
The summer storms in the south are fierce and strong and Kelian loves every minute of each one. When others are cowering and hiding inside, Kelian is trying to find a way outside, even if only to stand in the pouring rain or to watch the lightning stretch across the sky, generally from somewhere safer than out in the rain.
Dislikes:
Disorder:
There are few things that get under Kelian's skin like clutter and disorganization where it shouldn't be. She isn't sure why she has issues with things being out of order, but she will go into a cleaning fit if her things are out of order or if she ends up in a room that is a mess, even if it isn't her room.
Confrontation:
Kelian does not do well with confrontation at all and does her best to avoid it. It is something she may overcome in the future, but currently, she would prefer not to have to deal with it. There is no true reason for her dislike of confrontation, she has never been in a fight but has seen many of them between various people as has simply decided she wants little or nothing to do with it.
Making Numbweed:
Have you ever made that stuff?! It's a horrible thing to have to make! It smells horrid, takes just about forever to boil, and cleaning up after it is no picnic either. She only does it because she has to, if she had the choice she would never go near the stuff again, regardless of how useful it is.
Strengths:
Open-Minded:
Sure, most weyr born are pretty open-minded about people's sexuality and such, but Kelian simply doesn't care one way or the other about most things that bother other people, weyr or holder. She does her best to never judge people for what they do or don't like, how they live, or what they do. It's not her business, their life is not her own so why should she care. She is very much a, 'Live and let live', kind of person, with very few exceptions to that.
Team Player:
Kelian works very well with others, occasionally better with some than others. It doesn't matter what the task is that needs to be done, she will gladly fit in and help where needed. She can lead if she knows enough about the task at hand, but she is comfortable taking orders and carrying out said orders just as well.
Curious:
Kelian is nothing if not curious about everything. She loves to read and explore, she likes to find things out, even if it isn't really news to anyone but her. This isn't to say she is just nosey and likes to gossip, well she is a young woman in a weyr, she does like those things too, but this is different. Want to know what's in that cave but too afraid to go? Kelian wants to know too and will gladly go in to find out. Want to know anything about Pern or dragon history? Kelian will gladly join you in trying to find out, to the best of her ability.
Flaws:
Impatient:
If something is supposed to get done at a certain time, or preferably before that time, Kelian wants it done. Whether it is something she is trying to get done and someone is causing her a delay, or something she was expected to be done for her, she wants it done and over with now. There is just no sense in it, to her anyway, when things get delayed for no apparent reason. She understands sometimes that things happen, but if the delay is caused by laziness or something similar, she won't be happy about it and may end up getting a bit mouthy after a while.
Squeamish:
Kelian hates this about herself, so much, and is desperately trying to change it. It is not everything that makes her squeamish. Gutting fish she can do without issue and human or dragon blood doesn't bother her unless it's in excess. She can deal with raw meat all day and night while cooking, not a problem. However, she can not even look at a wherry being gutted, herdbeast carcasses, or anything that expels a lot of body parts and blood while being killed or processed. She doesn't understand her reaction to this and she gets extremely irritable over it.
Light Sleeper:
She isn't an insomniac by any means, as she can sleep fairly well most of the time. However, she has an issue with waking up in the middle of the night occasionally, for no apparent reason other than there was a sound, or the wind blew, someone snored down the hall, a dragon farted, a baby rolled over...You get the idea. It's annoying and she hates it.
Sassy:
Where this isn't a horrible fault it can, and has, gotten her into trouble. She tends to be a bit sassy or snarky with people who have irritated her or that she just doesn't like for whatever given reason. Sometimes the sass is all in fun and it's no big deal. There there are times when she is sassy and sarcastic to the point of just being rude. She is actively working on stopping the rude part of this.
History
Father:
@Kton, b.698
Rank:
Brownrider
Mother:
Name, b.703, d.727
Rank:
Kitchen Drudge
Siblings:
L'ton - Brownrider
3 other siblings, currently unknown: Two boys and a girl
Past Lovers/Partners:
N/A
Current Lovers/Partners:
N/A
Children:
None Yet...Wait for it.
Background Story:
720 & Born:
Born healthy and squealing to her mother Lianna, a simple kitchen drudge who was a half-hearted mother at best, though did love her daughter.
725 & 5:
Kelian has wandered off from the creche, someone wasn't paying attention, managed to climb up on some rocks, was startled by a wild wherry and fell. She nearly broke her jaw when she landed face-first on the ground. She did split open her chin and to this day carries a scar that starts on the right side of her chin and goes along the right side of her jaw about an inch.
727 & 7:
Mother dies of a stomach sickness leaving Kelian in the care of a foster mother, another kitchen drudge, but still spends most of her time in the creche with the other children
728 & 8:
Bit on her left hand by a tunnelsnake when exploring behind some of the huts that were further out, while trying to avoid doing chores. That was the last time she tried shirking her duties or went places she had no business being.
730 & 10:
Meets Leyton while doing chores, they rather befriend each other which makes chores go faster, but are completely unaware they are related, let alone brother and sister. While going through some of the items left to her by her mother she comes across a message that was hidden in another item, telling her who her father was believed to be. Being so young she did nothing about this information but tucked the message away, keeping it as a secret for herself.
732 & 12:
Is offered to start standing at hatchings and accepts, standing for the first time at the Rhythm of Life hatching. What else was she going to do being a weyrbrat? Not try to
Impress
? Not likely!
734 & 14:
Friend Leyton Impresses brown Kaliqueth and becomes L'ton. Still, good friends although there had been a hint of something more. Luckily, depending on how you looked at it, it was not long after that, that Kelian and L'ton found out that they shared Brownrider K'ton as a father. Awkward!!
736 & 16:
Moves to Ista weyr with her Father although she is still struggling with getting to know him. She spends the majority of her time with the other candidates and still partially avoiding L'ton, but starts to warm up to both her father and brother once she is settled into their new home. She started spending more time with both men, and although she was no longer awkward around L'ton, the memory of her crush on him haunted her. She even found herself having conversations about dragons and Impressing with K'ton.
739 & 19:
Hot. It's unbelievably hot. Kelian, like most others in Ista, suffers through the heat to do what needs to be done. Then the fires happened and the world around her went a little crazy. With little food and next to no water, tempers ran high and higher still when the fires started. Worry for the safety of her brother and father eventually shattered the last of her insecurities and doubts regarding both. She had finally found her family, she didn't want to lose them. Finds herself feeling out of sorts as all her fellow candidates start to Impress, leaving her behind with many new faces and still no dragon. Father/daughter bonding at it's finest...
740 & 20:
It was a curious thing to Kelian when she had heard of a second woman bonding to a blue dragon. It was strange, but as she had been told countless times, the dragon chooses the rider. However, it completely blew her mind when she heard that a Blue had caught a Gold in flight AND that there had been a small yes, but a resulting clutch! Nevermind the rumors that people had believed the blue to be green until the said flight. It was curious, and the Turn wasn't quite over yet...
Education
Craft:
General Education
Specialty:
Craft Rank:
N/A
Date Apprenticed:
N/A
Date Tapped:
N/A
Mastership Obtained:
N/A
Education Details:
Dragon
Dragon Name:
Dragonth
Name Pronounced:
Pronounced
Dragon Colour:
Gold/brown/brown/blue/green
Wing Assigned:
See the Wing Listing for current assignments. Put the wing you would most like to join in.
Wing Rank:
Wingrider, unless otherwise approved by the Team
Hatching Date:
dd.mm.yyy AL
Birthing Weyr:
Home Weyr:
Telgar / Ista / Fort or Katila (Katila is a retirement Weyr now)
Clutch Name:
Clutch Mother:
Clutch Father:
Appearance:
All measurements should be when mature.
Length:
Height:
Wingspan:
Scars & Markings:
Weyrlinghood:
Adulthood:
Mindvoice:
General Character Traits:
This should be at least two paragraphs, generally encompassing the things included in the above sections, as well as introducing any other aspects that didn't fit into those, but still applies to the character.
Habits/Mannerisms:
Please include at least one habit or mannerism that the character has. This could be anything from lip biting, to eye rolling or foot tapping. It should come with at least one full sentence.
[This section is optional]
Likes:
Change the word 'like 1' through 'like 3' into the thing the character likes, following there after with an explanation about why they like it. It should be at least one cohesive sentence for each one.
Like 1:
Like 2:
Like 3:
Dislikes:
Change the word 'dislike 1' through 'dislike 3' into the thing the character dislikes, following there after with an explanation about why they dislike it. It should be at least one cohesive sentence for each one.
Dislike 1:
Dislike 2:
Dislike 3:
Strengths:
Please include at least one sentence each explaining how they are a strength for your character.
Strength 1:
Strength 2:
Strength 3:
Flaws:
Please include at least one sentence each explaining how they are a flaw for your character. We encourage a character to posses more flaws than strengths and the two should not mirror each other.
Flaw 1:
Flaw 2:
Flaw 3:
[end optional section]
Hex Codes:
[Name]Dragon Name[/Name]
Font:
Background:
Preview:
[color=#HHEEXX]Dragon Speech[/color]
Infant Image
[Image: URL HERE]
Adult Image
[Image: URL HERE]
RP Sample
Hot. Even in the evenings, it was hot.

Kel had her hair pulled up into a messy bun that was slightly lopsided on top of her head. Not something she normally did but she hadn't wanted her hair sticking to the back of her neck any longer. She wore loose-fitting brown pants, a lightweight white shirt that also hung loose on her. With the worn-out slippers on her feet, she looked far more like a lower cavern drudge than she did a candidate, but she honestly didn't care. It was hot and any breeze at all just brought more salty, hot air with it.

She could have stayed inside, but it was stuffy and she hadn't really wanted to be around people. She wasn't sure why, she liked people, but she had left the dining hall to brave the overbearing temperature outside instead. Mostly she was avoiding the hushed, and often not so hushed, chatter about...the eggs. She shivered slightly as she thought about those eggs. She had never seen such reactions from eggs before, never felt such... awful things from any eggs she had touched. Sadness, contempt, and fear maybe... but she couldn't even describe what she had felt from the eggs she touched. She was afraid to stand for the hatching. THAT made her stop. She had never been afraid to stand for eggs. The only thing she was starting to fear was aging out and disappointing her father and brother.

She sighed softly, kicking a small rock with her foot as she walked. There was no use thinking about that either, not really. If it happened it happened and if she was meant for a dragon she would have one. Although, she wasn't entirely sure she wanted one of these eggs. Well that was rather negative of her, wasn't it? She frowned and sat on a random rock, elbows on her knees, chin resting in her hands. Truly, any dragon would be welcome, but what if there was something wrong with them? As far as she had ever known, blues only ever caught greens, never a gold. What would those dragons be like? Would they really be all that different? Why had they reacted so poorly to not just one or two of them, but all the candidates. Surely there had to be at least one of them the hatchlings inside had liked. Right?

These thoughts and more are what raced around the young woman's head as she sat, looking slightly dejected, on a rock, as the sky slowly darkened.

The Player
Character Base Created By:
@
DeeStar
Character's Finalisation Created By:
@
DeeStar
Dragon Base Created By:
@Username
Dragon Finalisation Created By:
@Username
Dragon Image Created By:
@Username
Played By:
@
DeeStar
Preferred Contact:
Discord
Inactivity Preference:
Transfer to @
Jenn
as this charactor is the daughter of her charactor K'ton.
---