Hello all!
You may - or may not - have noticed that the sidebar has changed just slightly. You can now view upcoming events under the current date!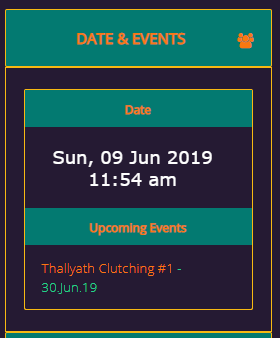 You can add events from your Character Account, to the Calendar by going to the
Members -> Calendar -> Add Event
, which is located at the bottom of the Calendar:

Note, it will
default to the current day
so you will need to change the date, regardless of what day you enter the
Add Event
through.
You can/should make events in advance - They will show up on the Upcoming Events once they hit the 35 day mark, so everyone has plenty of warning to their arrival!
Once the thread has been created (if one is created) for said event, you should go back into it via your Character who made the event, and Edit it. This will allow you to put a link in the body!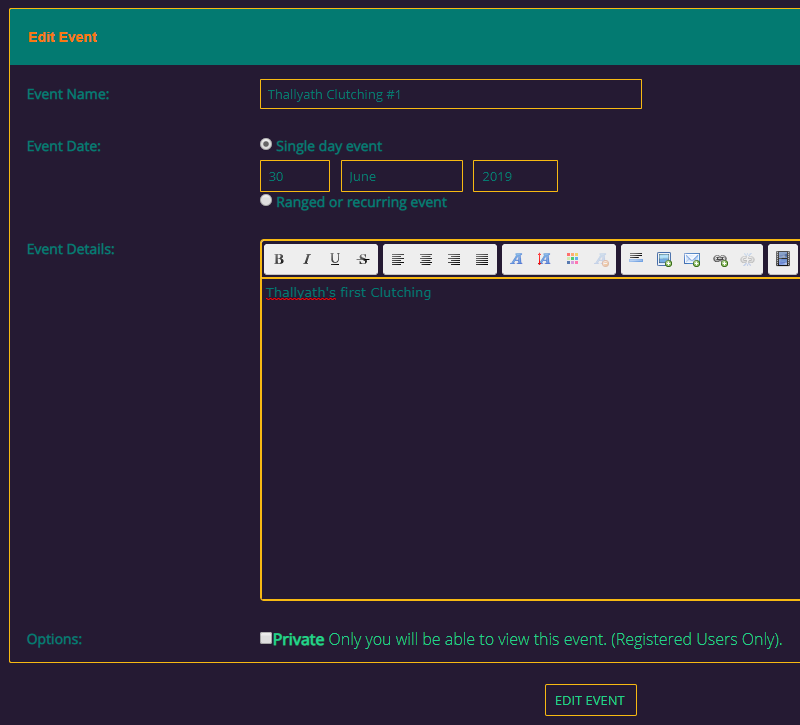 FEEL FREE TO ADD FLIGHTS, CLUTCHING, HATCHING, GRADUATIONS, ETC
TO DO:
- I will see if I can't add the account-switcher to the Calendar events, so we can change account posters easily
- I will make the Event page look prettier
- Trying to find the coding so that the date will come before the link on the Index page
- Also plan to make the box scrolling as more events are added, so that it will show the top five, but you can scroll to see more. At the moment it will show 15, but stretch the screen down to do so.
And will look like this --- at the moment. I plan to make it less ugly in the future!